OK here it is as promised. The 'Live In Leeds' 10" released on Karl from Canvas label Contrition Records. This was recorded at The Fenton pub in Leeds on 22nd Feb 1999. No Rolling Stones mobile recording unit here ,this was done on a mini-disc Walkman by Kalv Piper stood on the bar at the back. I remember this night well as it was our friend/merc/photo guy Bobby Vimto's birthday and he knocked himself unconscious whilst being a drunken fool. Great night! but unfortunately no pictures from the gig for the sleeve.
Ah yes the sleeve, we thought we should make it look nice to trick people into buying such a shit recording ha! ha!. But either way it looked great with its Who/Heresy rip off outer 12" sleeve then the AC/DC 10"sleeve inside. I think 502 were pressed on green vinyl and 27 on green and black vinyl like the picture below. There is also more 'Wicker Man' stuff here, from the vinyl labels to the stupid samples on the recording, obviously added at a later date. The whole thing was put together at Thumb Studio in Nottingham, which is where the bonus track was recorded a total piss take involving a few of HTS with Chris Neary and Paul Inger getting involved as well. Big thanks to Chris Ashworth for ripping this for me.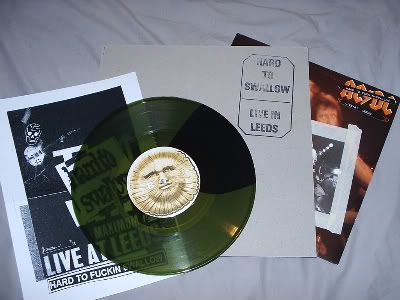 Its ripped as side a and side b.
Tracks Side A - Wicker Man intro/AC/DC intro/Hard To Swallow/Only A Glimpse of.../Pillblind/Needle Deep/Eyespot/Wicker Man outro closed groove.
Side B - Chainstich/Barricade/Melted/Strapped intro/Bonus Track/Wicker Man.