Here's the 7" as promised on an earlier post. This was released in 2004. A split label release on Atrocity Exhibition/Burial Records.
There were 100 pressed on black vinyl with heavy brown card sleeves and 220 on black vinyl with white sleeves (some sleeves have fake blood spatters) .
I never really liked this recording as I hated the vocals but many people seemed to love it and I can't knock the awesome playing by the rest of the guys. Give it a listen let me know what you think.
I've also included 'Death Of Seth' which was a different version of 'Daughters Of Re' from the demo, it came out on the 'Bitter Days Ahead' Comp CD on 'Ghost City Records'. There's a really nice keyboard intro inspired by DIO's Holy Diver.
I'll maybe stick up the Deathskulls tracks when I've had a word with them to get permission.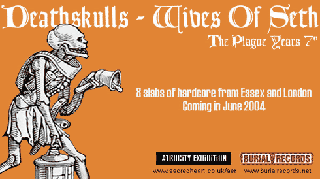 Get WOS 7" here.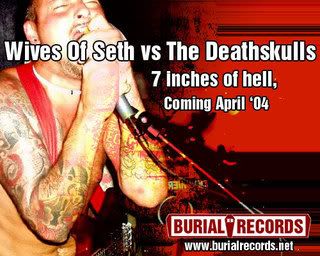 Get Death Of Seth here.